Welcome to the 3rd term of Weekday STEM Classes!
We started our new term for weekday STEM classes on September 12th (Wed).
Let's find out what our i:Code 1 class students learned on the first day.
Do you remember learning coordinates in math class?
Coordinates are not only used in math, but also in computer science!
You need to know coordinates and directions in order to code a program.
How do students use coordinates in coding?
Students use coordinates and set direction when coding their sprites (characters) in a program called Scratch.
They need to know coordinates in order to set or move their sprites to a specific location.
You can see that math and computer science are closely related.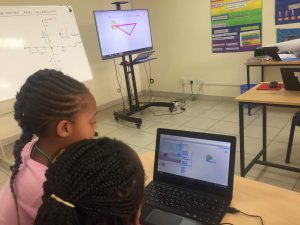 Our students work in pairs to collaborate, discuss, and improve their projects.
At Tinker, we strongly encourage interactive and fun learning!
It's not late! You can still join!
We welcome you to join our Saturday or weekday STEM classes.
Click the "Apply" button on our website www.tinkeredu.net.