The i:Block 1 students learned about the life cycle of a frog using the Bee-bot.
What is Bee-bot?
It's a little robot shaped as a bee that helps students understand sequencing and algorithms.
Planning
Students first did a cut pasting activity where they planned the steps in a frog's life cycle.
Picking and Pasting
Next, students picked images representing the different stages of a frog's life.
Each student lined up according to the picture they chose, in the order of the cycle stages.
They then completed the cycle by pasting their pictures on the board!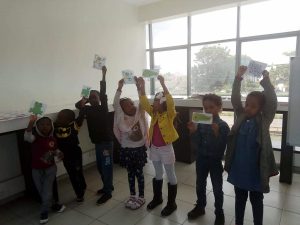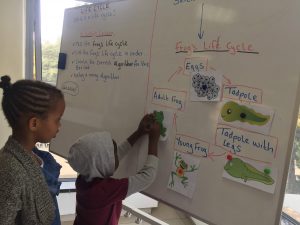 The Project
Finally, the fun part!
Students selected a card, and this time created the appropriate algorithm for the Bee-bot
to move to their chosen card on the frog's life cycle map.
When the child's algorithm was correct then the Bee-bot would stop on the correct cycle stage
on the map matching the picture card.
Visit Tinker Education on Ndemi road-Ngong Road Junction.
Or call 0715 978 986 for inquiries
Also, tour our learning center to see more fun physical computing kits students use to learn coding.