We presented certificates and celebrated our students for successfully completing the 2nd term of 2018.
Are you ready for Tinker's new term?
We sure are! We can't wait to see our students' bright smiles!
Before we start the new term, we want to share flashback photos of our certificate ceremony on the last day (Aug. 4) of Term 2.
At Tinker, we present students with certificates at the end of each term.
This is to celebrate the students' achievements for the term, and to acknowledge their improvement!
We are very proud of all of our Tinker students.
They are all very eager to learn and always do their best in class!
Even with new knowledge and challenges, they are fearless and excited to learn and apply their skills!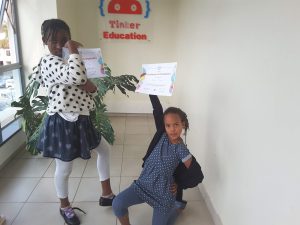 We can't wait to see our students grow even more in Term 3!
Mark your calendar! Term 3 starts on September 8th (Sat).
Enroll your child today to see them progress 🙂