The 2019 1st term is over!
It has been a great three months building, innovating and coding.
It's been fun and we can't wait to see what the 2nd term has in-store!
During the Open Day, we welcomed our parents into the classroom to experience the fun of STEM.
Students became the teacher as they guided their mums and dads to plan and program animations, adventure games, and colour code. Here are some of the amazing activities and projects that were presented:
Presentation of Students' Coding Projects:
i:Block classes worked hard to improve their best and favourite projects of this term.
With the accompaniment of algorithms and flowcharts, they proved how their ideas came to life in Scratch Junior!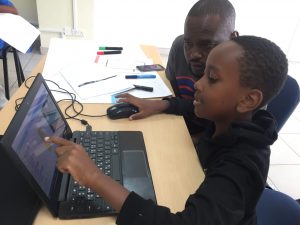 Presentation of Physical Computing Activity:
The students showed off how a colour and line sensing Ozobot works using markers. They gave instructions to their parents to make a script of their own for the tiny robot to speed up, slow down, and spin on a piece of paper.
Phases of the Moon Project:
For the i:Code class, students have been busy creating a project that represents the Phases of the Moon using LittleBits, the electronic invention resource.
They used electronic modules such as LEDs to represent the solar light, and motors to make the earth and the moon rotate in space. Full of creativity, students added planets and stars to decorate their cardboard boxes.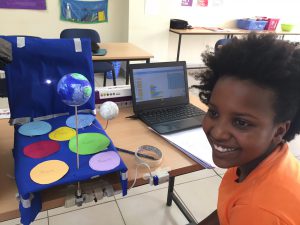 Finally, they illustrated how the moon's shadow is cast on the earth in different phases. Parents had fun peeping into the "black box theatre" to see the shadows.
The students learnt the phases of the moon, the electronic concepts and computation thinking.
i:Imagine: Play My Game
Parents and siblings had lots of interactive fun at the i:Imagine class in true gaming fashion. They listened to a brief PowerPoint presentation of how each developer (student) created his/her game using Python and then tested the games for themselves. In the adventure games, the players assumed the role of a protagonist in an interactive story driven by exploration and problem-solving. Choose the wrong option and disaster may strike!
Check out how Jamie tried out his game he made.
We thank our parents for taking the time to participate in this Open day. It was wonderful to share how much Tinker kids have learnt thus far.
Have a great holiday and see you again in May for Term 2 😊