Can you make a circuit with dough in the shape of the Kenyan flag?
Find out how our i:Spy 3 class students made theirs!
Step 1: Students learned about conductors and insulators.
Step 2: Students made an electric circuit.
Step 3: Students used conductive dough and insulating dough to make a Kenyan flag.
Step 4: Students connected the electric circuit and Kenyan flag to light up LED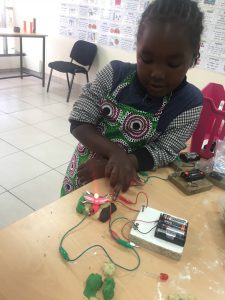 See how our students lighted up LED by using conductive and insulating dough! 
This experiment enabled students to learn how electric current flows.
Isn't it cool to learn and have fun at the same time?
Experience the fun at Tinker by joining TODAY!
Click the blue "APPLY" button on our website or call 0715-978-986.